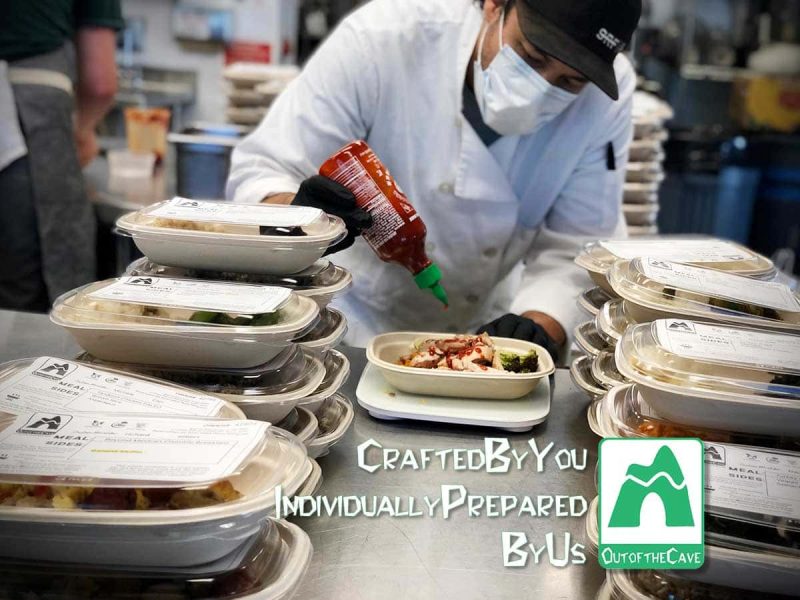 KITCHEN UPDATES
Home Delivery Only — As many of our pickup locations face mandatory closures we've decided to shift all orders to Home Delivery.  If you are a pickup customer please contact us to make the necessary changes in your account.
Safety is Our #1 Priority — We continue to follow the highest sanitary standards throughout the process including touchless delivery.
Fresh Food, No-Hassle — We'll do the cooking and the prepping. You do the staying healthy. Select from over 136 meals and stock up your fridge and freezer if absolutely necessary.
A LETTER TO OUR COMMUNITY
Out of the Cave's clients, employees and communities health is the most important focus during these times. And with the ever-changing, sometimes overwhelming news about COVID-19, or coronavirus, we wanted to share how we are taking every step to ensure your health and safety.
Our mission at Out of the Cave has always been to help you live better lives and enjoy more time with our help making your food more than just delicious, convenient and accessible to build a healthier community. That's why we want to share with you the standards we've adhered to since day one, as well as extra measures we've established to keep you safe:
FOOD SAFETY
Safety is our #1 priority, simply put. We follow the highest sanitary standards and all FDA Food Code regulated public health requirements. The FDA announced that "there is no evidence of food or food packaging being associated with transmission of COVID-19."
We've also ramped up reinforcement of our employee hygiene practices and increased cleaning and sanitizing procedures, especially during production, distribution, and delivery.
To make sure we're serving you at the highest level, we're continually monitoring updates from health agencies like the CDC and WHO.
DELIVERY
Our commitment to delivering safe, high-quality, delicious meals remains unchanged. In order to protect our community and practice safe distancing, pick-up locations will be suspended for the following few weeks.
We're proud to continue offering delivery directly to your door—touch-free and no trips to the grocery store needed. Rest assured that we are working closely with our delivery partners to ensure we take all measures to reduce any exposure risks.
Out of the Cave wants to provide you with an easy and option for eating and healthy living. We believe in this as much for our own families as we do for all of our community. These values are more important now than ever before, and we're proud to be able to serve you. If you have any questions, our customer service team is available via email 

[email protected]

 or you can chat with us at the bottom of the page with any questions.
age with any ques We want to thank you for the trust you have placed in us and we can assure you that it will be taken very seriously and we are committed to support you, and help you live with as little as possible disruption in your day to day lives.
Cam
Out of the Cave